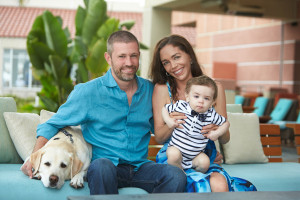 Hi friends! My name is Christy, aka Tiny Little Chef, and here are some fun facts about me!
I have been married to my Hubby TJ since July 2012.
---
I am Mom to our 6 1/2 year old Son, Julian and black lab, Mia, 2. The yellow lab pictured in the photo is y angel pup Ty.
---
I am a Certified Weight Management Specialist (Nutritionist). I actually became interested in Nutrition when I was told I needed to gain weight to get pregnant. The RN literally told me to do it eating "a ton of cheeseburgers and fries." Um, no.
---
I have been a Professional Chef for 20 years. I went to Culinary school way before it was the cool thing to do.
---
I got the name "tinylittlechef" when I was trying to come up with a new email address in Culinary School. My Dad said "well, you are tiny, you are little, and you are going to be a Chef, so how about tinylittlechef?" And 20 years later here we are!
---
I am very anti fad diets and pro carbs! Fad diets only lead to two things 1)Totally screwing up your metabolism and 2) Putting back on all the weight you lost, and more! Your body NEEDS carbs proteins and fat to run efficiently.
---
I am on a mission to teach fellow busy Moms that healthy eating can be delicious, nutritious, easy and doable!
---
Tiny Little Chef started as a Phoenix meal delivery service, It evolved into Catering, and after the birth of my Son, I took my whole business online primarily using Instagram.
---
I am a certified teacher on the Pilates Reformer. I have always hated traditional exercise, but I looked into Pilates as a way to rehab my knee after a ski accident and I fell in love with it. I also love to dance!
---
I am a depression and postpartum depression survivor and advocate. Neither of these are a laughing matter, and I once had someone blast me online for having "mental health issue." Not cool!
---
---
I love hair bands! Rock on Poison, Slaughter and Motley Crue!
---
I love to read and learn. My Parents used to have to drag me out of my room when I was little because I was always immersed in books, specifically Little House on the Prairie, The Babysitters Club and Sweet VAlley High!
---
I am a goofball.
---
The beach is my total happy place! My Hubby and I got married at the beach I have been going to since I was 3. We go back every year, and someday I want to own a vacation home there!
---
Questions? Comments? I would love to hear from you!