Talk about a versatile recipe! No Bayou Blackened on hand? Try Ragin' Cajun or Taste of Arizona (or pretty much any of my Seasonings). Not a fan of bell peppers? Try it with mushrooms and onions! No chicken on hand? Try steak!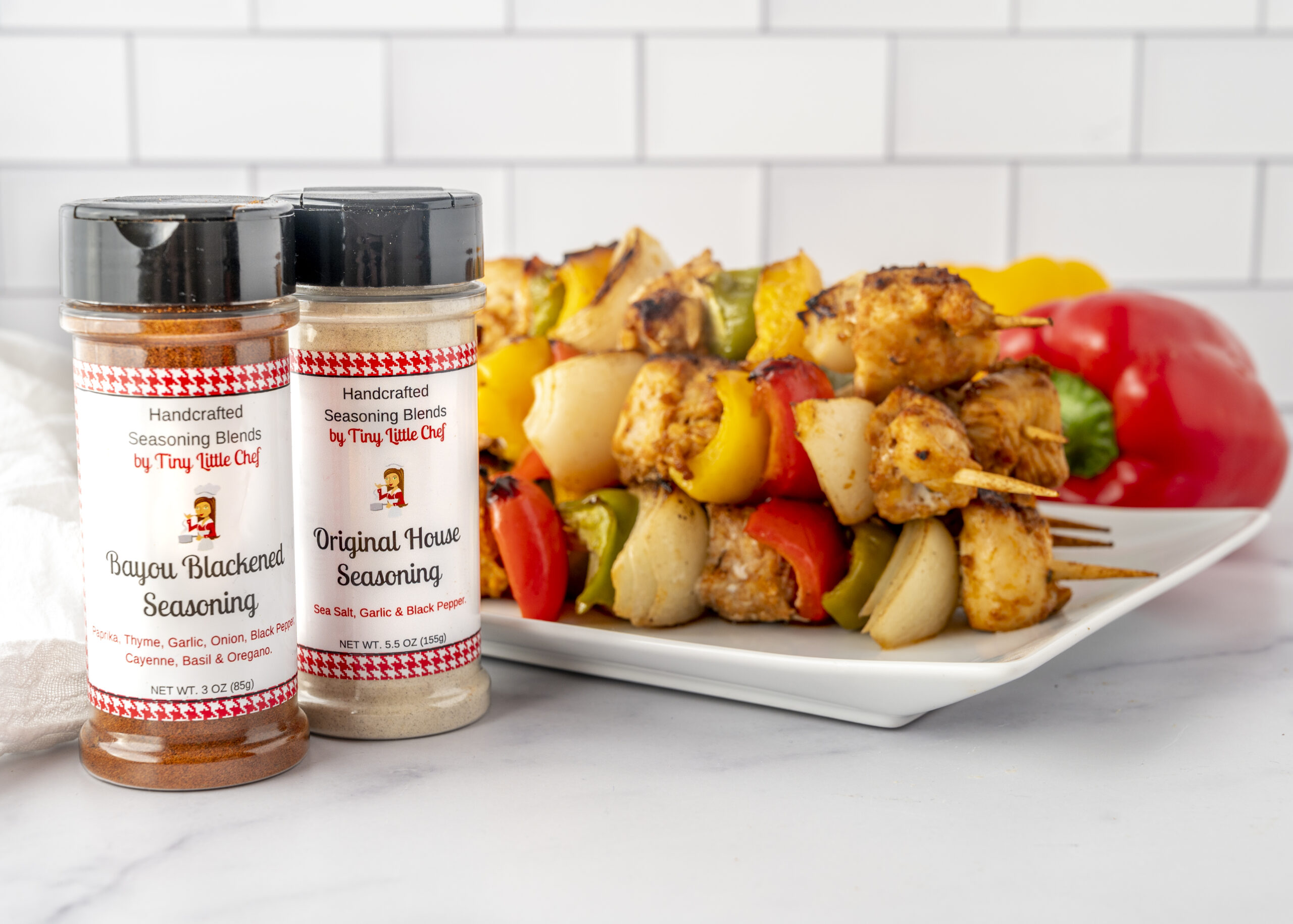 What You Need
4

chicken breasts (3-4 oz. each)

cut into chunks

2

T.

olive oil

Veggies:

1

red bell pepper

cut into chunks

1

yellow bell pepper

cut into chunks

1

green bell pepper

cut into chunks

1

red onion

cut into chunks

1

T.

olive oil

½

T.

TLC Original House Seasoning

combination of sea salt, garlic, and pepper
How to Make It
Chicken:

Cut chicken into chunks.

In a bowl, mix together the seasonings and olive oil until you form a paste.

Rub the paste into the chicken and let sit at room temperature a minimum of 30 minutes.

Veggies:

Cut bell peppers and onion into large chunks, and season with olive oil and house seasoning.

In your sink or a large bowl, soak 4-5 wooden skewers (let soak 30 minutes to avoid burning on the grill.)

Heat grill to 300-350 degrees.

Skewer your chicken and veggies, alternating the two, until all skewers are complete.

Grill until thoroughly cooked, approximately on 7-10 minutes (time depends greatly on your grill)

TIP: Do not move skewers too much while cooking. The more you let the heat do it's work, the less chance you have of overcooking.
Tiny Little Chef Seasonings Used or Reccomended (click to purchase and use code BLOG for 15% off)
Need more recipes? Visit our amazing recipe vault where you can sort by diet, protein source, course, and even seasoning used.
You might also like: Garlic Balsamic Ribs Recipe